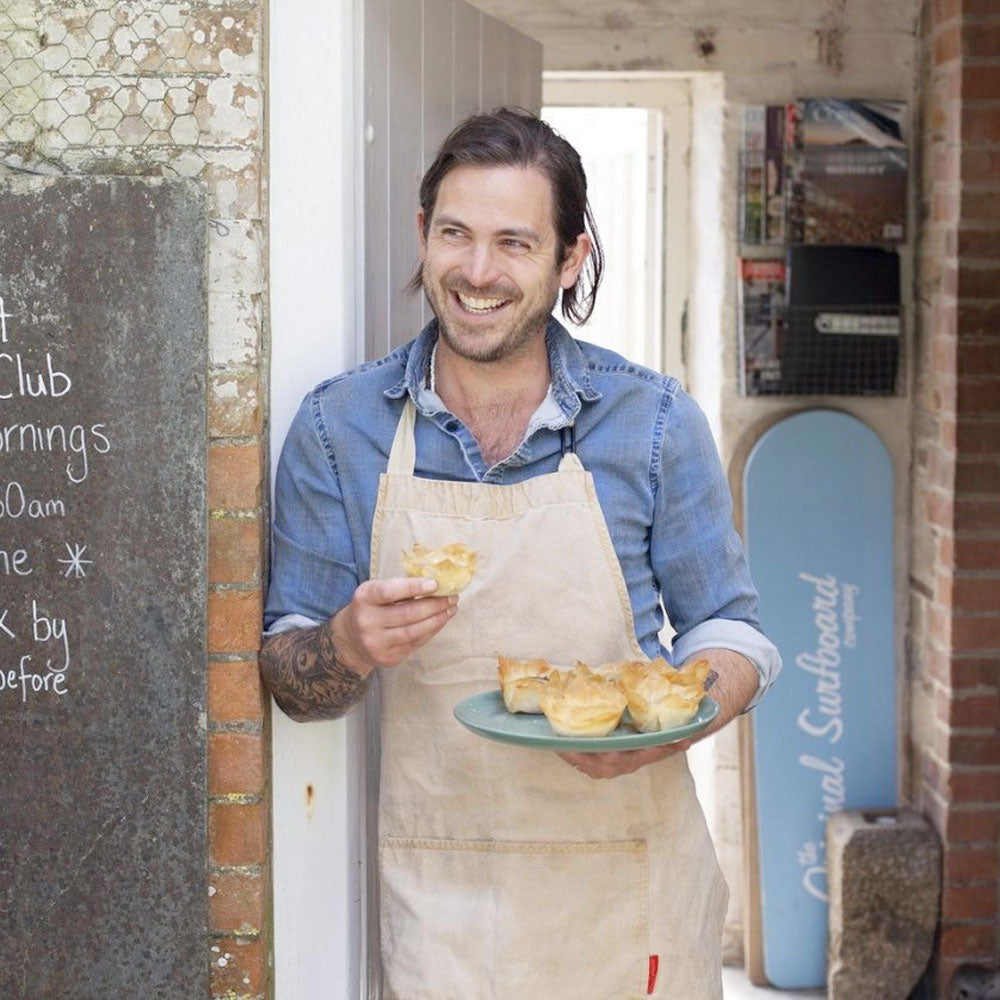 A podcast series
exploring Britain's best food, with James Strawbridge & 44 Foods
James is the driving force behind Strawbridge Kitchen. He lives on the South Cornish coast with his wife Holly and their three young children.
When he's not developing new recipes or directing photoshoots, James can be found foraging for wild food with his family, out at sea gig rowing for his local club or painting the Cornish countryside.
In this podcast collaboration with 4 Foods, James explores some of his favourite ingredients from the land and coast of Britain.
SERIES THREE
CHEESE & WINE
In Series 3, James is exploring the world of brilliant British cheeses, bringing you some delicious recipes and beer and wine pairing suggestions.
BEAUVALE BLUE CHEESE HOT DOGS
We're focusing on comfort food at its finest in this week's podcast, featuring hot dogs smothered in a soft and creamy Beauvale that would convert even the most hardened of blue cheese avoiders!
LANCASHIRE TRUFFLE BOMB BRUSCHETTA
Dream of a Mediterranean summer with James' Italian-inspired Bruschetta, topped with crumbly and flavoursome Lancashire Truffle Bomb.
LINCOLNSHIRE POACHER PLOUGHMAN'S
Matured for 14-16 hours for a rich and full flavour, Simon and Tim Jones' Lincolnshire Poacher takes centre stage in this traditional Ploughman's lunch.
SNOWDONIA BLACK BOMBER & PURITY LONGHORN IPA
James gets to work in the kitchen using this smooth and creamy cheese to make the ultimate cheeseburger.
ORGANIC BLUE VEINED BRIE & WHITE WINE
It might have been created by accident, but blue cheese has developed over time to be the star of the cheeseboard with big flavours and endless versatility.
COTSWOLD ORGANIC BRIE & PINOT NOIR ROSE
In episode one, James explores a Cotswold Organic Brie paired with a Pinot Noir Rosé from the Sharpham Estate in the Dart Valley.
TOMATOES
British heritage tomatoes have an amazing variety colours and flavours. For the final episode of this series, James creates a stunning tarte tatin that's sweet and summery.
STRAWBERRIES
Ever tried fish with strawberries? Us neither, until now! In this week's episode of Green Grass and High Tides, James pairs turbot with a strawberry, orange and fennel salad for delicious results.
POTATOES
The humble spud is a British staple and one of the most versatile vegetables to cook with. In this week's podcast, James gets to grips with some Jersey Royals and creates a deliciously summery Hasselback Potato and Anchovy Salad.
PEAS
If you have fond memories of helping to shell peas as a child, you're going to love our episode all about this versatile little green vegetable. Perfect for summer recipes and loved by young and old alike, tune in to get some growing and cooking tips.
RHUBARB
Did you know rhubarb is actually a vegetable? Us neither. Join James as he chats about this wonderful British ingredient and cook along as he makes a tangy and vibrant rhubarb and custard Tart.
ASPARAGUS
Welcome to the second series of Green Grass and High Tides. This series, James is exploring the best of British fruit and veg. In this first episode, find out more about brilliant British asparagus and cook along as James creates a delicious brunch with asparagus, poached eggs and a creamy hollandaise sauce.
TURBOT
Fantastically flavoured with a flakey, meaty flesh, turbot is a fish of legend. Often billed as the finest fish in the sea, some turbots can grow up to a metre in diameter and weigh up to 15kg! In this episode James cooks up some turbot fillets with a creamy shallot and fennel sauce, accompanied by wilted kale.
SARDINES
Sardines, or pilchards as they are known in Cornwall, have a rich history and play a starring role in the Stargazy Pie that James cooks up this week. Join him in the kitchen to find out more about this versatile fish.
SMOKED FISH
Smokehouses have a rich history in the UK and smoking food is a tradition that has enjoyed a revival in recent years. In this episode of Green Grass and High Tides, James takes a look at the history and science behind the process.
SEABASS
James explains why farmed seabass is a better choice than wild stock due to decades of overfishing. Find inspiration in the kitchen as James cooks a beautiful fillet of bass, served alongside a creamy risotto.
POLLACK
One of James' favourite fish, Pollack, is the star of the show in this week's episode of Green Grass and High Tides. Find out more about this robust fish and why it's a great alternative to cod.
MONKFISH
Welcome to the first episode of the Green Grass and Hide Tides podcast, exploring Britain's best food with James Strawbridge and 44 Foods. This week, we explore the monstrous yet more-ish Monkfish.